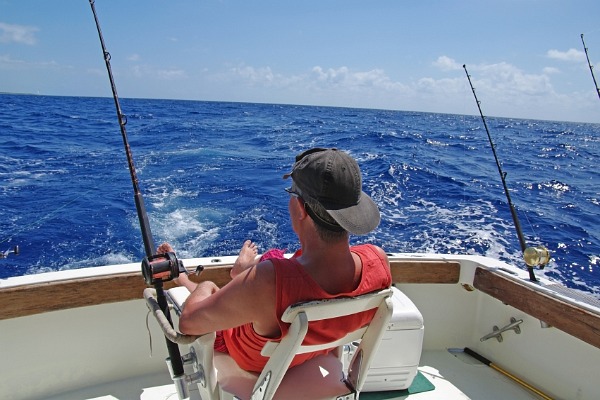 A heavily optioned Riviera 56 Open Flybridge luxury cruiser is the choice of Motor Yacht Charters Sydney. Decked out with shiny 'fighting chair', a swag of Ian Miller rods (enough to fill a very plush cabin!), and all the technical and navigational equipment you would expect of a seriously advanced game fishing boat, Pisces is exceptional and worth about $3.5m.
Fishing fanatics and amateur anglers alike will be impressed by Pisces specs. Custom built by Riviera, she is as stylish as she is practical. The massive cockpit comes complete with a capacious live-bait tank with tuna tubes, as well as inbuilt video cameras to capture lasting memories of the catch of the day.
The complement of 20 Ian Miller rods onboard was crafted by one of the world's top three master rod makers and the kit comprises Championship Shimano reels, 6kg to 130kg reels, and Championship lures by Hawaiian, Joey Lee and Pakula.
State of the art navigation equipment including 3D GPS aim to guide anglers to the biggest and best of Sydney's game fish. Those who are less experienced at the sport of game fishing can learn under guidance from the best. Skipper Michael Tess is a champion game fisher with 35 years local and international experience.
Spend a few moments with Michael and the world of game fishing, just off the Sydney Harbour environs, opens up to even the uninitiated, as he reels off tantalising destinations like Browns Mountain, The Bait Station and Heatons Hill about 46 nm off the coast, and as far north as Norah Canons and far south as the Southern Canons of Port Hacking.
As for secret drop zones, Mick won't be drawn. "We've got a few little places we like to go, that people might not be conversant with. I know where to go to get really nice Snapper, but we keep that a secret. And the same with the Kingies.
"For clients, we just take them to where the fish are firing. There are 20 or 30 places, but it's a matter of where they're biting. We check up with the pro fishers to see where they're headed, look at the weather and conditions, water temperature, time of year."
All year round, but particularly during high season, September to the end of February, the coast off Sydney abounds with game fish species such as wahoo, mahi mahi, numerous types of sharks, yellowfin and striped tuna, and even blue marlin, black marlin and striped marlin. There is also plenty of action for anglers in the bottom fish species, like flathead, snapper and jew fish.
"That is half the fun," adds Gerard McCord, Sales Manager of MYCS. "You fight them, bring them in, video footage of the action, photos all round, tag them and let them go. Game fish are tag and release, by choice, because we're concerned about supporting sustainable sport fishing. But with bottom fish, like Jew Fish, you can take them home and eat them."
Pisces is a luxurious battle wagon, which took six months from ordering to completion and is fitted with about one million dollars worth of options, including $180,000 in game fishing electronics alone. The vessel boasts two staterooms with ensuites, and another bathroom with laundry washer and dryer. There's a full galley with convection oven, microwave and cooktop, and several fridges and freezers, an ice maker and desalinator.
"She's powered by twin 1015hp caterpillars, so even loaded up, Pisces performs," asserts Gerard, adding that in heavy seas, the boat can attain a high speed of 30 knots, and cruising 24 knots.
Game fishing expeditions are full catered, offering a selection of cuisine and beverages. The vessel has capacity for up to 10 people, plus crew, for offshore game fishing. Pisces also doubles as a unique function venue for those seeking a more intimate experience for up to 30 guests within Sydney Harbour.
Groups can choose from a range of pick up points along Sydney Harbour including Sydney's King Street Wharf. All inclusive game fishing charters for 10 people start from $5,500 for up to eight hours.