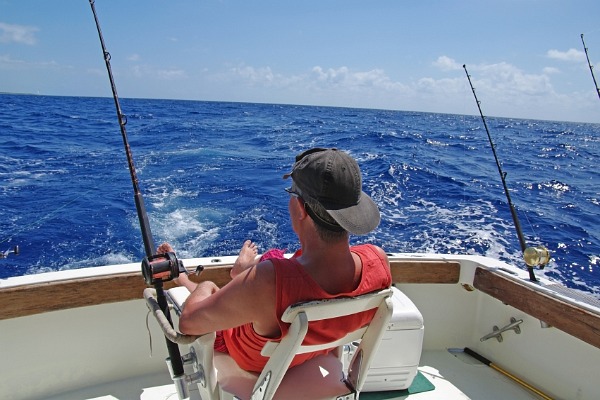 November 8, 2007
Kiwi RIB competes in worlds richest fishing contest
A New Zealand designed and built 12.5m Rayglass Protector, specially customised for gamefishing, was an unusual entrant in what is generally acknowledged as the world's richest sport fishing series.
The 27th annual Bisbee's Black & Blue Marlin Tournament, staged annually off the Baja Mexican seaside resort of Cabo San Lucas, attracts over 160 teams from countries as diverse as Brazil, Switzerland, Ukraine, New Zealand and Australia, Japan and Tahiti. These teams compete for an incredible $US3,838,620 in prize money.
The strikingly-different Protector, TT Vava II, was fitted with a number of innovative features so she could compete in the tournament. One of these is a specially designed and built walkway between the twin-engine installation. Protected by washboards at the stern, this unique walkway gives direct access from the helm right through to the transom. Teak aft decks, adding a new level of practicality and style, were also fitted, the first time these have appeared on a Protector.
Customised game poles and rod holders were also strategically positioned as was a sophisticated Raymarine E20 electronics system consisting of digital depth sounder, chartplotter, radar and DVD player.
Powered by twin 315hp Yanmar diesels through Mercruiser Bravo II sterndrives, TT Vava II boasts a top speed of 45mph and certainly proved a head-turner as she competed against the large fleet of far more traditional game fishing vessels
With an opportune moon phase and water churned up by passing Hurricane Kiko just days before the tournament began, the fishing during the five day contest proved outstanding with over 201 billfish caught and released.
Because teams earn prize money depending on which of the optional daily categories they enter, the team catching the biggest fish doesn't necessarily win the most money. That was certainly the case this year with the third placed team sailing away with the biggest purse: an astonishing $US1,421,752, the second largest haul in the tournaments history. The largest fish landed was a 281kgs blue marlin. It earned the team catching it $US734,415. Second was a 268kgs blue marlin, which earned $461,062.50.
The top release team caught and released a staggering 31 billfish.
After competing in the tournament, TT Vava II was shipped to Florida where she is currently serving as both a tender to her owner's superyacht and as a highly sophisticated gamefishing boat.