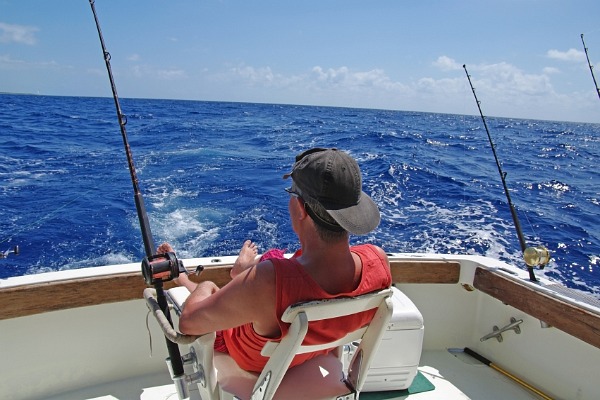 Lowrance's new Elite DownScan Imaging™ (DSI) sonar series delivers crystal-clear, photo-like underwater detail in a high-resolution colour display.
Comprising two models – the Elite-5x DSI fishfinder and the Elite-5 DSI fishfinder/chartplotter – the Elite DSI series combines Lowrance's revolutionary DownScan Imaging technology with brilliant displays, smart automatic fishfinder modes and simple, intuitive operation into a surprisingly cost-effective solution.
DSI-equipped anglers will experience a new standard in fishfinding with remarkable below-the-boat views of bottom structure such as rocks, vegetation and drop-offs, as well as thermoclines, baitfish and target fish.
The Elite DSI series provides incredible underwater definition in shallow and deep, freshwater or saltwater – including impressive bottom readings at higher boat speeds. Capable of displaying isolated targets and hard-to-find secondary structure, DSI not only allows users to see vegetation and bottom structure more clearly, but helps anglers recognise variations in weed growth and bottom hardness.
The Elite-5x DSI and Elite-5 DSI feature a new rugged, low-profile, dual-frequency Skimmer® transom-mount transducer with built-in temperature sensor that operates at 455kHz for wider and deeper coverage, or at 800kHz for more concentrated scans in shallower conditions with greater target separation.
For easy-to-use, touch-of-a-button execution, Elite DSI models have automatic fine-tuned fishfinding modes for simplified, instant operation and optimal performance, while allowing access to manual options for advanced control. For greater precision with bait or lure presentations, anglers can position the cursor anywhere on the sonar display to determine the depth of a marked object – such as suspended baitfish, a thermocline, or target fish identified among suspended tree branches.
In addition, DSI models feature Lowrance's TrackBack™ function, which allows anglers to scroll backward into sonar history and pinpoint possible fishing hotspots. With the Elite-5 DSI fishfinder/chartplotter, users can also set waypoints, for easier navigation back to a desired location.
Elite-5 DSI fishfinder/chartplotter models also feature a built-in high-sensitivity 16-channel GPS+WAAS precision antenna for out-of-the-box, plug-and-play navigation, along with an external antenna option.
Designed with a 12.7cm (5") 480×480 pixel SolarMAX™ 256-colour TFT display for superior viewing in all conditions and from wide angles, Elite DSI series models have 300W RMS DownScan Imaging power for unfiltered target separation at depths down to over 60m. The compact units also feature an innovative mounting design with an easy-to-install, quick-release, tilt-and-swivel bracket that allows for convenient removal and remounting, are fully waterproof to IPx7 standards, and are protected by a one-year limited warranty.
The Elite DSI series will be available to consumers in the first quarter of 2011. RRP starts from AU$899 for the Elite-5x DSI and rounds out at AU$1099 for the Elite-5 DSI combo unit.
Further information:
Navico Australia – (02) 9936 1000