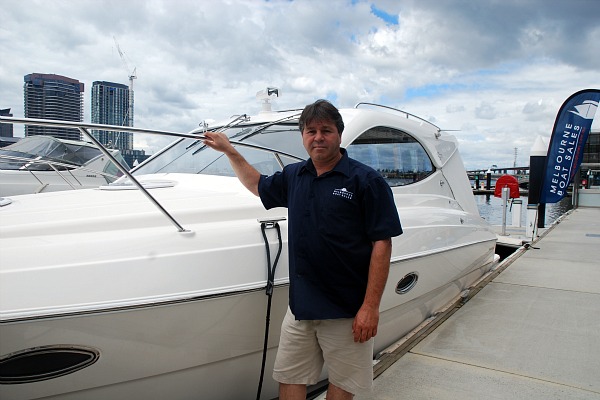 Leading Australian luxury cruiser manufacturer Maritimo has appointed Victorian marine industry identity Lee Vitiello and his company, Melbourne Boat Sales, to be the official distributor for the Mustang range in that state.
Lee Vitiello has run Melbourne Boat Sales for the past four and a half years and for the past decade has been the driving force behind Marine Solutions.
He comes from an active boating family and grew up in Williamstown where his father always had large boats.
Maritimo's Peter Jenkins, who co-ordinates the company's international dealer network, said he was thrilled to have Lee Vitiello and his wife Jenny onboard as the company's Mustang representatives in Victoria.
"They started Melbourne Boat Sales just prior to the GFC and they have managed to soldier through some pretty tough times which is a testament to their work ethic, customer relations skills and expertise," he said.
"We are very happy to have them onboard and Lee's knowledge of the boating sector in Victoria will be invaluable." He said Melbourne Boat Sales had a widespread reputation and was known for its high levels of customer care.
Lee Vitiello said the Victorian boating environment was much different to Queensland and he expected the hardtop models of the Mustang range to do well. "The little Mustang 32 sports cruiser is an ideal boat for our environment down here," he said.
"We have a relatively short summer and often the best boating can be enjoyed in an enclosed hardtop boat which are perfectly suited to our environment."
He said the company was looking forward to the upcoming Melbourne Boat Show and will be displaying a Mustang M32.